Now, you can easily have all your lead information that G99+ collects from various sources in your Mindbody account.

Here are the steps!


STEP - 1
Access your Growth99+ business account using your login credentials and navigate to the menu titled "Integration Center" and click on the sub-menu titled "API Integrations".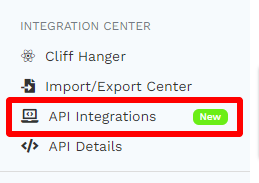 STEP - 2
You will see the below page., Click on the Mindbody "Manage" Button as shown below.


STEP - 3
There, in the API URI section,https://api.mindbodyonline.com/public/v6 URL will be pre-filled. If not, add it.


STEP - 4


Contact Mindbodyonline to get the API key, Site ID (studio ID on the dashboard), and User agent (source name on the dashboard) for your business as on the below image


STEP - 5


Add all the details to the below section.




STEP - 6


After you save the details, whenever you get any lead, it will be sent to your Mindbody account, and it will be shown in the "History" below.




Also, in the above screenshot, under "History", there are two columns named "Request" and "Response".
Under both columns, there is a black info icon with each entry. Hover or click on it, and it will show what request was sent and what response was received from the API.
If the lead's email already exists there, then the request will fail.
We also have a retry button to retry the request if any error occurs.