How To Integrate Your Facebook Business Page With Your Growth99+ Business Account?
Social media is one of the most powerful tools to reach out to the maximum number of people possible. Online visibility and presence are important for
brand marketing and in building community presence
. The stronger your presence, the more trust you can build with your audience before developing a direct relationship beyond this marketing channel.
The Growth99+ application offers a social media management tool that aids in maintaining your online presence by allowing you to schedule multiple posts in advance to the social media platforms of your choosing.
Check for social media posts calendar to learn how to schedule a 365/24/7 online presence using Growth99+ all in a few simple steps.
This article discusses the integration of your Facebook page with Growth99+.
STEP 1

Using your login credentials access your Growth99+ business account. Find "Social Media Manager" in the left-hand-side menu options; click on the sub-menu titled "Social Profiles".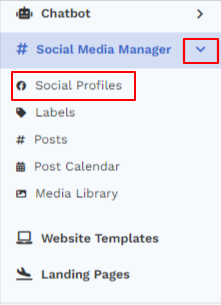 STEP 2

On the page, you will see two tabs, one for Instagram and one for Facebook. Click on the tab titled
"Facebook"
to integrate the Facebook page of your business account with your Growth99+ business account.

STEP 3

On clicking Facebook you will be redirected to the login page of Facebook, where you need to login to your own Facebook page. After entering your credentials, click on the
"Login"
button to access the Facebook page of your business account.
STEP 4

Next, if you have multiple pages linked to your Facebook account, you will need to select which page you intend to link with Growth99+.

Clicking "next" will take you to the permissions you are giving for Growth99+ for the successful integration.

STEP 5
Click "Done" to complete the Facebook integration process.

A pop-up will appear saying "You've now linked Growth99 Prod to Facebook", as shown below. Click on "OK" there.
STEP 6

You can re-visit the
"Social Profiles"
page, to see the Facebook account linked to the Growth99 business account. Refer to the below image.
Once your Facebook account is successfully integrated with your Growth99+ account, you can create your own posts and set time durations to make these posts live on your Facebook page. (CLICK HERE to know how to create a social media post using your Growth99+ account).
For integrating the Instagram account next, visit here

Here is an interesting note, with growth99+ you can pull all your Facebook ad leads to your Growth99+ account and create triggers with custom emails and SMSs to start a marketing funnel! Click here to learn about triggers!
Related Articles

How To Integrate Your Business Instagram Account With Your Growth99+ Business Account?

Continuing further from our previous article on how to integrate your Facebook business page with your Growth99+ account, we now move on to the integration of Instagram with your Growth99+ account. Read here to learn how to integrate your Facebook ...

How To Create A Social Media Post Using Your Growth99+ Business Account?

Some of the previous articles have discussed how to integrate the social media pages of your business with your Growth99+ business account (CLICK HERE to know more on this) and how to create labels for your social media posts. (CLICK HERE to know ...

Integrate GoHighLevel In Growth99+

Now, you can easily have all your lead information that G99+ collects from various sources in your GoHighLevel account. Here are the steps! Step – 1 Access your Growth99+ business account using your login credentials and select the menu titled ...

Integrate Close CRM In Growth99+

Now, you can easily have all your lead information that G99+ collects from various sources in your Close account. Here are the steps! Step – 1 Access your Growth99+ business account using your login credentials and select the menu titled "Account & ...

How to find the Facebook URL for the 5-Star Review Configuration

Below is the method to find the Facebook URL for the 5-Star Review Configuration. Search for your Business Profile Page in the Search Bar. Then click on your Business Profile Page Copy the URL from the URL Section of the Browser